A warning message –
You may be Victim of Software Counterfeiting
feel most critical in your Windows XP . Actually it creates due to fail validation test, windows XP Original copy is not installed, insert different license Key, pirate version. If request of WGA validation test becomes fail then your computer show such message on desktop or Startup XP .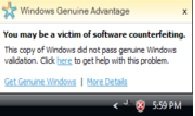 You may disable or remove genuine message through registry easily.
First Method-
Go to start button, select RUN option and type command regedit in run box.
open Registry editor window.
Choose HKEY_LOCAL_MACHINE in left panel.
Now you find Microsoft Folder.
Browse Current Version folder.
Choose Notify folder. you find wgaLogon folder and delete it.
Reboot your computers and genuine message will remove from windows XP forever.
Second method:-
You may also remove genuine message in windows xp or windows 7 through external software.
Download Remove WGA 1.2 software and run it .
Now your computer will reboot after performing action of disable genuine message through software.
How to Remove Windows 7 Genuine Advantage Notification in Windows 7 -
At first, download software Remove WAT 2.2.5 .
Extract it in your local drives.
Now right click on RemoveWATT.exe icons and Select Run as Administrator.
In open window, select Remove Wat from here option and Click OK Button.
in few moments, Windows 7 will reboot automatically and Genuine advantage notification will be vanished. and window
Now your computer properties will display as below image.