Most of the apps are available under DMG files and type of the file is almost similar to Mac OS X users. The irritating things for the users is that Windows OS does not support DMG files when out of the box then you all need to take help of third-party tools.
If you are encountering the same issue means to open DMG files then you have a lot of ways to overcome. So, you are expressing a few tips one by one for how you can convert
DMG files to ISO
on your windows. You may follow us through this post from given below.
Note:
The good things for you is that you can convert it without paying any amount (free of cost).
How to convert DMG file to ISO on Windows OS
Tips 1: By using DMG2IMG
This is the best and easiest way to convert
DMG to ISO
file on Windows for free. You need to execute a simple command from the Command Prompt in this method.
1. You have to download the
dmg2img zip
file by visiting the given link and tap on
win32 binary
file when you open the link page.

2. Make right-click on the downloaded file and tap on
Extract All
to remove the contents of the downloaded file to a new folder.
3. Press and hold down the
Shift
key and again make right-click on that folder what you have created earlier. Then hit the
Open command window here
option to open Command Prompt.
4. Finally, you have to execute the command "dmg2img <oldfile.dmg> <newfile.iso>" and tap on
Enter
key.
5. Replace <oldfile.dmg> with the path to DMG file by <newfile.iso> with location wherever you need to save the converted ISO file.

As for example: if the DMG file is located in the given path C:\Apple folder with the name under
Test
, then we have to enter C:\Apple\Test.dmg in the Command Prompt. You may see in the given screenshots below: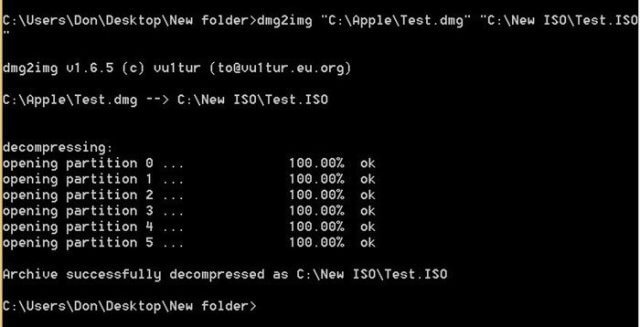 Tips 2: By using PowerISO
The
PowerISO
software also supports to convert DMG file in ISO file with the click of mouse button. You should mind that it is not free to use. But those users who have already kept PowerISO then follow the given tips below.
1. Navigate
PowerISO
program on your PC. You may download the
PoewrISO
by clicking on the given link if you have not installed before.
2. Tap on
Tools
and then choose
Convert
option to open convert dialog box.
3. Hit the
Browse
icon which is situated under
Source file
section and choose your DMG file.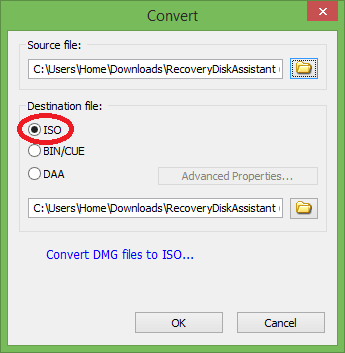 4. Tick mark the ISO below the
Destination file
label and also select the location to save the converted ISO file followed by
OK
tab. Then your DMG file start to convert in to ISO file.
Tips 3: By using Any2ISO
Any2ISO Lite
is a software which is designed to convert disc image file to ISO with a few mouse clicks only. It is free to use and supports the files only up to
870 MB
with any version. It means you can not able to use Any2ISO software to convert DMG file of larger than 870 MB.
If you have smaller than 870 MB DMG file then follow the given tips:
1. Install and run the
Any2ISO
lite version after downloading it. You may download
Any2ISO
software by visiting the given link here.
2. Press
Open image
tab to browse the DMG file that you need to convert.
3. Then tick mark the
Convert to ISO image label
. And finally, tap on
Convert
tab.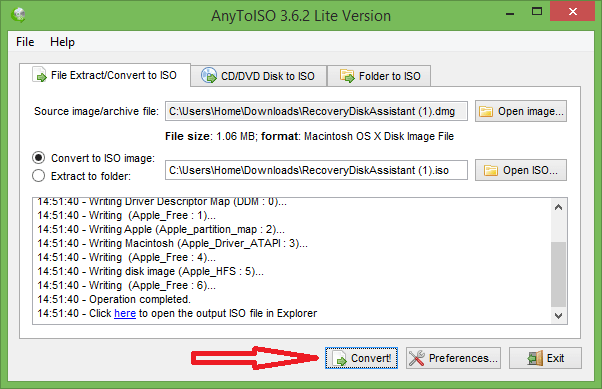 That's it.
Hope, you will not face the problem of converting DMG file to ISO further.