In recent Windows versions such as Windows 7 or Windows 8/8.1, you always used Computer or This PC to access
File Explorer
. Actually, Computer or My Computer has been renamed by This PC in Windows 8. You need to click on the File Explorer icon after getting This PC. Now Windows 10 provides you Quick Access to open File Explorer by default which save your critical time. In this version, Quick Access is Known by
Home
earlier. It shows frequently accessed folders and recently accessed files as well about ten to twenty in number due to which you can easily able to launch recent used files or folders. It should be remembered that Quick Access is usable for those users who love to see all recently used files or folders during launching the File Explorer.
When you open Quick Access then you have to click
This PC
icon from the left pane to switch to This PC. As you can see in the given screenshots: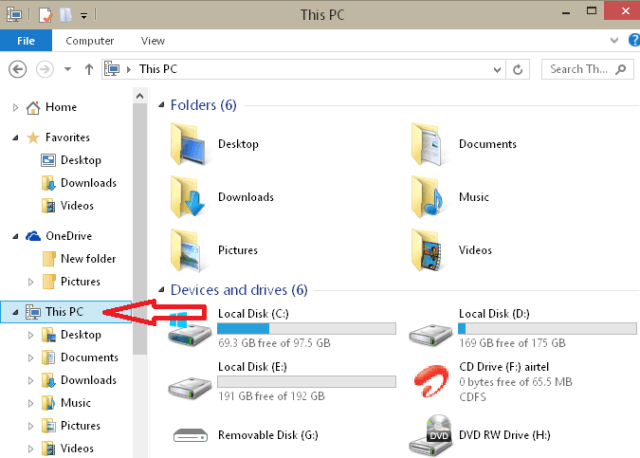 Now, you can open File Explorer using This PC without the use of Quick Access on Windows 10. Folder Options makes it possible to open it with This PC. If you are not able to set File Explorer to This PC as default then you can follow us through this article which we have explained few methods below in easy steps. You are free to use one of those methods according to your satisfaction.
How to Set Custom Folder View Default to Open File Explorer in Windows 10
How to Open File Explorer to This PC by Default on Windows 10
Tips 1: Using View Tab
1. Launch
File Explorer
by clicking on its pinned icon from the taskbar to open Quick Access or Home.
2. Then tap on
View
tab to expand it and hit
Options
button to open
Folder Options
dialog box.
3. Switch to
General
tab and choose
This PC
in the drop down menu list under the
Open File Explorer to
label.
4. At least, press
OK
button to save the changes.
Now, you can open File Explorer to This PC instead of Quick Access without restarting your PC or logging out.
Tips 2: Using Folder Options
In fact, It is similar to the above tips as you follow earlier.
1. Open up a folder from anywhere on your PC.
2. Next, press on the
File
menu from the upper-left side of the folder window and then hit on
Change Folder and search options
to get Folder Option on your screen.
3. Expand
General
tab and select
This PC
option in the drop down menu list under
Open File Explorer to
option.
4. And click
OK
button.
Tips 3: Using Registry Editor
I think Registry Editor is one of the best methods to set File Explorer open to This PC by default. In this method, you have to do manually one by one registry key.
1. Access
Registry Editor
by clicking
Windows
and
R
buttons at the same moment to open Run dialog box and type
Regedit
in the search box then hit
Enter
key.
2. Navigate the following keys carefully in the Registry key:
HKEY_CURRENT_USER\Software\Microsoft\Windows\CurrentVersion\Explorer\Advanced
3. Check for
LaunchTo
option in the right pane and make double click on the same.
Put the value
0
if it is
1
and press
OK
button to save the change.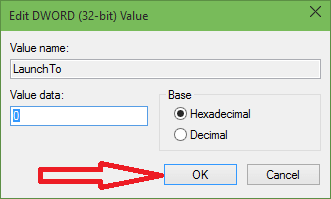 Note:
If you will not find LaunchTo registry key under Advanced then you have to create this new registry key manually on your PC.
4. Finally, you can close the
Registry Editor
on your PC.
That's it.
Now, you should restart your PC which may help you to save the changes whatever you have done earlier. When you click on File Explorer icon then you will get This PC instead of Quick Access.