Windows 8 Task Manager is a truly great tool which helps you to manage your startup services. It also carries on history of the resources that was being used by your Windows 8 Metro apps.
First Method-
Remove Apps Usage History in Windows 8 Through Task Manager
If you want to wipe out long time stored history of apps usage data then launch
windows 8 Task Manage
r at first.
So Press shortcut Ctrl+Shift+Esc to start Task Manager window.
Move your mouse cursor to App history tab at the top panel and click on it.
Then you will find following options like CPU time, Network usage, Metered network usage and more.
If you want to delete entire past history of apps data usage then clicks on the Delete usage history option.
Thus you have successfully performed actions of delete apps usage data history in your windows 8 through Task Manager window.
Second Method-
How to remove the history of usage data of apps from the PC settings window
Press shortcut Window Key + I to launch Windows 8 Settings Panel in right side.
Now click on More PC settings link underneath.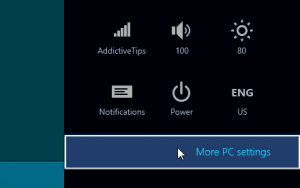 Next you will get PC Settings window.
Here from left panel Choose General option.
Then click on the Delete History link to remove app history under App Switching section in right side.